HyperDock: Bringing Aero-esque Previews to the Mac
We all are familiar with the WIndows Aero window previews when you hover over the items in the taskbar. This is the one feature from Windows that I wish was built in in Mac OS. Well now, with HyperDock, it's as close as it gets.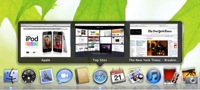 HyperDock does just what you'd expect it to do. Except it also can do more than you'd expect. It does give you a preview of the open windows in an application when you hover over the dock icon. However, it also integrates window snapping. So if you drag a window to a side of the screen it fills that half of the screen. Pretty neat. It also allows you to control iTunes via configurable mouse shortcuts. This little app is packed with features other than that, and best of all at the moment it's free! So why not spend your Sunday afternoon and give it a try? Head on over to the HyperDock site to download this neat little app.
All for Now!
Arthur Rosa is an engineering manager based in Sunnyvale, California.