As everyone out there on the internet already probably knows, Adobe this year at their annual MAX conference has given out some pretty fantastic prizes. Unfortunately, I was unable to attend MAX this year, however my father, James, is currently there. So what has he come away with? Well, here's the major things.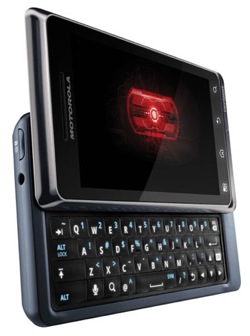 First, at yesterday's keynote address, amidst a slew of announcements about new features in the Flash and Flex platform, Adobe gave all MAX attendees a free Motorola Droid 2. Their hope in doing this is that everyone will take these fancy new devices and install AIR and get developing with the new version of Flash Builder that the announced. Flash Builder "Burrito", as it's called, has the Flex SDK 4.5 Hero built in. It has built in a template for an AIR for android AIR application. I have yet to try building for this, as my small Motorola Backflip cannot handle AIR. Once James gets home with the Droid, I hope to try it out and post some videos of how to get an AIR app running.
Yesterday the also announced some fantastic new technologies that will be built into Flash player. First of which was completely accelerated 3D graphic in flash running at 0% CPU. That's amazing. Now, for me, that will not make a difference as I still have an ancient macbook and just watching youtube videos makes my computer's fans go into overdrive. Also they officially announced AIR for TV. I have a feeling that this will eventually be installed onto Google TV devices as an additional platform for building apps.
In addition to this, at the end of the keynote address today, every MAX attendee received a free Logitech Revue with Google TV. This really is a fantastic giveaway. It shows that Adobe is really pushing towards alternative technologies to iOS for entertainment. Again, I haven't tried this out for myself, but once I have one in the house, I will try it out and post some videos.
In all, it seems from afar as if this year's Adobe MAX conference is turning out to be quite the fantastic experience. It's too bad I missed it!
All for now!
Arthur Rosa is an engineering manager based in Sunnyvale, California.