Adobe AIR Development for Blackberry Playbook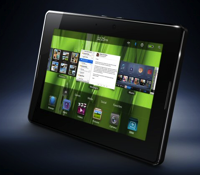 At the Adobe MAX Conference this year, it was announced that developers would now be able to develop applications for the upcoming Blackberry Playbook. Well, that day is here! Developers everywhere can now start to make apps to run on the Playbook, using the Adobe AIR 2.5 SDK and Flash Builder. To learn more about development for Blackberry Tablet devices, check out this page.
Getting this installed is pretty easy. I was able to get the SDK set up in about 10 minutes. Once you have the SDK, you have to start developing some super neat apps to put up on the Blackberry App World. Blackberry currently is offering a free playbook to developers who get apps published to the App World. I know I plan to take advantage of this super offer.
To help get you started, Blackberry has started a webcast series and posted some other general getting started guides to help you out with development. Those can be found here. So far, they've proved themselves to be very useful.
In the end I strongly encourage any existing AIR developer and even some new guys to go and give this a try. It's really worth your while!
All for Now!
Arthur Rosa is an engineering manager based in Sunnyvale, California.