Angry Birds for Mac: Not for me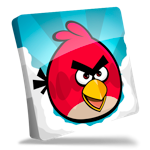 The launch of the Mac App Store yesterday morning brought with it many things. The long awaited Tweetie 2 (now called Twitter for Mac), and also Angry Birds, the popular iOS and Android game from Rovio.
Well, like any game loving person, the second app I bought from the Mac App Store was Angry Birds. To my dismay, the app wouldn't open. There was an error, where a file was linked incorrectly or something. Well, I made the assumption that there would be an update soon, and sure enough, there was this afternoon. Finally, the app would open. However, to my extreme displeasure, I was presented with the message that my graphics card does not support OpenGL 2.0
Little did I know that I was not the only person displeased with Rovio for doing this. I checked out the angry birds page on the Mac App Store, and saw that the rating had dropped from 5 stars yesterday, to 3 stars today. Rovio has not made any friends with this update.
There are several other games I have downloaded, all of which have run without a problem. The Incident, Chopper 2, and Flight Control HD work just fine. Why can't angry birds?
I suppose the thing that makes me the most angry is that the mac app store has no method for a publisher to post system requirements. What I'd like to see is the app store warn you when you're buying an app that cannot run on your computer, and not allow you to purchase it. That would be an ideal world.
All I really am asking for from Apple and Rovio is either a refund of my $5, or a fix to make the game work on my Mac. For let's face it, I really would rather have a working game than have my $5 back.
All for Now!
Arthur Rosa is an engineering manager based in Sunnyvale, California.