My Experience with PlayBook Development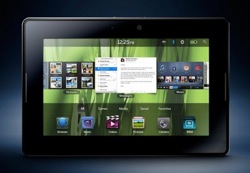 Now that I've officially had my app accepted into the BlackBerry AppWorld for the PlayBook launch, I thought I'd take some time out to talk about my experience on getting my app published.
Let me start out by saying that this whole process has not been easy. From start to relative finish, it's been almost 5 months. What with figuring out the app world vendor portal, flash builder, and the blackberry airpackager and simulator, it's been a wild ride.
Let's start with the beginning. The playbook was announced in december. I began my app development in late december, and submitted it on December 31, 2010. Getting the app packaged up for submission was fairly difficult however. At that point, there was almost no documentation on how to actually package the app and get it submitted to the app world. I had to go off of blog posts and blurry screenshots. But, i got it packaged and submitted.
"Finally," i thought, "I'm done with this." Well, that wasn't true at all. Once the app was submitted, i was always nervous, because i didn't hear back from RIM for the longest time. I thought that my app had been rejected or something, and I hadn't been notified. The vendor portal said only "Waiting on Test House" for my product for a long time. Then, one day, i got an email notifying me that (1): My app was approved, and (2): I had a coupon code for my free playbook.
First thing's first. I ordered my playbook right away. That order is now safely placed, and I still await my playbook's arrival. Second, i was also notified that i would have to re-upload my app with a code signing certificate attached to it. Well, like a good developer, i went right over to the page where i could order up my certificate. Well, i did that, and 3 weeks later, i still haven't received a response. I got a notification yesterday telling me that my product was now rejected, since i hadn't uploaded a signed version. Well, i replied right to that email, letting them know that I hadn't received a certificate. I still await a response on that one.
I believe that RIM could have done much better to streamline this process. For instance, they could have had appropriate documentation, or maybe had the appworld functioning when they started accepting applications. I don't know. This is just me speaking from the perspective of a slightly annoyed developer.
All for now!
Arthur Rosa is an engineering manager based in Sunnyvale, California.